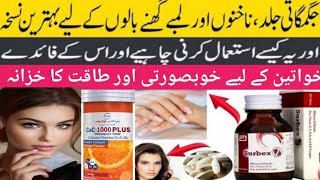 Assalamualaikum is about married women who feel very tired and weak, they know how to use a lot of tricks and creams , and after marriage, every woman is face pregnancy, child birth, baby feeding , etc., they have a lack of vitamins and due to which her immunity system becomes weak,and she is not able to do even less properly by making daily herself, tired and sick, they face bad skin,hair falls, nails break , the skin becomes pale and dull so today's In this video, we will know how our beloved sisters can keep herself healthy and beautiful, so let's go start the video, otherwise you should go to your doctor and do your complete checkup and take supplements only with their advice.
When I got it done, my doctor suggested me some supplements, which I am sharing with you, I take this daily mail, this is surbex Z and Vitamin C tablet, now we also know the benefits of these supplements, you all know that there is a lot of amount of Zinc and folic acid are found in surbex z . Women,s health Helps to maintain and grow towards us and by eliminating the punch pan makes them capable of becoming a mother Helps in quick healing of wounds Improves eye sight and cures bad mood Zinc is required quantity Promotes hair growth Maintains hair health Stops hair fall completely Prevents hair thinning and breakage Can keep hair color intact for a long time Prevents graying of hair.
Prevents nail breakage Strengthens nails Zinc is found in apple,cow meat and spinach take a tablet daily with water after breakfast, after one month your health will be much better. Vitamin C tablet is also very important for health . It is an anti-oxidant that protects the skin from damage caused by free radicals, which leads to fine wrinkles. Can become voice of lines and skin tone Improves luck and firmness of gel Helps lighten dark spots hyperpigmentation Makes heart look blemish free and beautiful Keeps drains healthy from infection and many diseases Saves Vitamin C.
Is found in many fruits and vegetables, such as orange , kiwi, capsicum, broccoli, etc. Apart from this, you can also take it in the form of supplements, so you must take vitamin C tablet once a day for sure. You will get very good results, you will be very happy and will pray for me , be happy, take care of yourself a lot