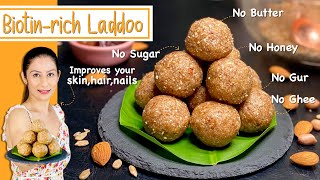 Today I have made these delicious Ladoos. But it is not any normal Ladoo, but Biotin Ladoo. These ladoos are meant for my age group. It is also for gents who are 40 plus and complain of hairfall, dull skin, brittle nails. This is for them – Biotin Ladoo. To make Biotin Ladoo, I have taken all the healthy ingredients for skin, nails and hair. I have taken 3/4 cup almonds, 3/4 cup raw peanuts and sunflower seeds. Sunflower seeds are packed with natural oils and are helpful for glowing skin. We cannot munch too much on any snack but this recipe of Ladoo, you can eat as much as you like. Firstly dry roast almonds and peanuts.
Generally people think that eating peanuts, one gains weight. But I don't agree wiht this. If you eat peanuts in moderation, then it is good for your health as it has healthy fats in it. Also if you eat any food in excess, it is harmful. But if you have it in moderation, it's good for your health. Peanuts are dry roasted. Transfer into a bowl. Now dry roast the almonds. You can use peanuts wiht skin or without the skin. Almonds are also roasted lightly and you can see dark spots Mix both peanuts and almonds togehter. Also mix the sunflower seeds. I have not roasted them as they are already roasted and salted.
If your sunflower seeds are not roasted, then lightly roast them. And if it's not salted, then add a pinch of salt in it. Add 3 tbs dessicated cocnut. This is totally optional and you can avoid it. Basically the natural fats in coconut are good for glowing skin. And also we have been using coconut oil for centuries for our hair, so this is very healthy for hair. Now churn all these in a mixie into a powder We usually get supplements for all things. Also there is supplement available for Biotin in the market. But nobody likes to take those supplements. And it is always beneficial to take natural ones. The recipe which I'm sharing now is my personal favorite.
I always take this Ladoo once in morning especially when it is empty stomach, I take it first thing in the morning. Nuts and seeds powder is ready. To make this Ladoo sweet, add 7-8 dates paste. Remove the seeds and churn in mixie. If you don not like dates, you can use Jaggery/gud And if you do not want sweet at all, then you can consume it just like that. You can have One spoon in the morning or you can add 1 spoon of this powder in your breakfast or cereals and have it. It totally depends on how you want to consume this. To give flavor to the ladoo, add 3 elaichi/cardamomm powder. Mix well all the ingredients.
You will not need any ghee or oil to mix as nuts and seeds are packed with oil. Mix it nicely with your hands as the mixture will start to release oil. This is getting binded so nicely. Earlier it was dry and now it is binded perfectly. Now I'll start making Ladoos with this mixture. Use a tablespoon to make ladoos so that all are of same size. Now let's serve the Ladoos. Super healthy Biotin Ladoo is ready. This is also my personal favorite.
And I have one daily on empty stomach. Very tasty, very healthy. Try this recipe and eat daily and take care of your health.