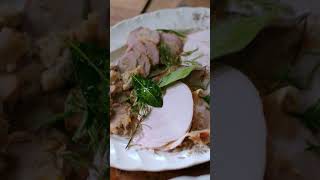 First, we're going to start with pastry. Get your flour in there. Go in with one free range egg. And a little bit more water. Super easy, in the fridgefor about half an hour. Now, this filling. We need 2 teaspoons of butter. I'm going to go in with that bacon. Rosemary, smells amazing.
Chop your filled mushroomsand then leeks. We're going to use flourand then stock. And we're just going to wazz it up. Then we need to flavour this into the most amazing filling. We have our lovely sauce. We'll pack that in. Of course, one of the keyflavours is cranberries. And now we can do the bitthat River wants to do. Decorating.
I'm going to whack that in the oven now. That, my friends, is the hodge podge pie.