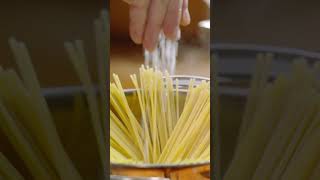 This is a family favourite in my home and I want to show youhow to do it. Get a pan on a medium heat, add a tablespoon of olive oil, a knob of butter, 4 sprigs of thyme, and 4 finely slicedcloves of garlic. Then go in with the leeks. Water, 400 milliliters Leave for 40 minutes until silky and soft. That will be perfectto wrap and coat the pasta. Spaghetti, of course, is the classic pasta.
That goes with carbonara. So I need to do the eggpart of the sauce. Drain the pasta and go into our leeeks. We'll toss this together. So when the pans cooled downa little bit, we'll go in with the parmesan and egg. Look! Look how creamy that is. Come on. Amazing!.
And here we go. Just simple but delicious.