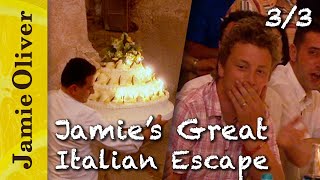 It's the final week of my great escape, it'stwo days till my 30th birthday and I'm celebrating it on the Amalfi coast, where me and Joolsspent our honeymoon. I feel older, thrashed, ready to become 30. But I've gotta get there first. Just conked out, like there's **** all reallyI can do about it. There's a small fragment of like, lookslike aluminium. Presumably if I've joined the gap between… After 3,000 miles and a whole load of grief,my 50 year-old van has finally packed up. I think it's the spark plug caps are loose,so they're wobbling they're not making contact.
So I'm probably only running on two cylinders. Like there's **** all really I can do aboutit. I'm just 200 miles from the Amalfi coast. I've never really liked birthdays. Maybe the van's trying to tell me something. Buongiorno. Nah I don't feel emotional I'm just **** pissedoff. This is **** innit. Don't forget me deck chair.
At times like these I really miss Jools andthe kids. Hello? Hi babe, I've just broken down. Daddy's van's broken down? Nah I've just… is that Poppy? Can I say hello? Love you daddy! Love you too. I'm not sure if Jools is coming over becauseof the kids and all the stuff like that, I.
Don't think any of my family are coming either. It's not quite the entrance I wanted. **** van, you **** piece of 1950s ****. I**** hate this van. The **** romance is over, piece of ****. **** youpiece of **** ancient ****. Today is the last day of my 20s, I've got a big party to cookfor tomorrow and I'm still trying to get out of Jools whether she's coming or not. Lemme speak to Poppy I want to get the truthout of Poppy. Poppy? Yeah?.
Are you gonna come and surprise daddy in Italy? Yeah. Good girl! So is her tooth alright? Yeah I think so yeah. She fell over and hit her tooth… they say it might go black. Alright well look I'll see you tomorrow then. Jamie I am not coming look, please I'm neverever gonna surprise you again because you.
Know what now I feel so bad now. I know but you surprise me so often I neverknow when you're gonna surprise me. Well this is why it's quite good that I'mnot gonna surprise you at least now you know that I'm sometimes letting the surprise bea surprise. Ah alright then, I'll see you tomorrow. No, Jamie? Yeah? I am not coming. I still think she's gonna turn up.
I'm 30 today, and guess what? I'm up early, shopping for me own party. Still no sign of Jools and the girls. Thank you big kiss for your girls. Pleasure thank you darling. Three of them. Three of them yeah, including the wife. To be honest I'm a bit anxious about cookingtonight. I've invited all the Italians that I've metalong the way, and they've been pretty hard.
To please so far. Can't be bothered to make cake tonight I justwanna drink and have food. Hello my name's Billy no-mates I'll cook mea cake, happy birthday to me!… Out of the way. I've borrowed this derelict papermill for my party. Oh, Antonio! This is like Steptoe and Son. It's rustic it's fallen apart, a bit likeme. I've had me best 30 years haven't I?.
Jools has rung again to say that she reallycan't make it. But that's alright, we can celebrate tomorrow. It's just too much hassle with the two kidsand getting over here, and the planes apparently aren't working at the moment 'cos there'sbaggage strikes on, so I don't think there's many people getting in or out of Naples totell you the truth. I'm gutted. But with everyone coming in three hours, I'vegotta get a move on! Tonight I'm cooking my favourite Italian partyfood. And for main course?.
Porchetta. A delicious slow-roast pork using the loinwith the belly left on. Your butcher will do this for you. Ey! So, that is the biggest bit of pork scratchingsyou've ever seen… you'll make a handbag out of that, look! We're gonna roll it with beautiful thingsin it. Plenty, plenty rosemary. There's a little bit of fennel there, fenneland pork are like the best friends ever.
Little bit of mint. Got a little bit of garlic. Peperoncino. Chop 'em up fine. And 'cos I'm in Amalfi I'm using a littlebit of lemon zest. This is probably not in their porchetta butlemon works so well with pork. Ok so look there we go. And that is our flavour. After a generous seasoning of sea salt andpepper I'm gonna sprinkle on those herbs with.
A good glug of olive oil. What I have to do is fold it. What a lovely sort of celebration dish. Double knots. Right that goes in the oven. It ain't gonna be ready till eight o'clock,people are arriving at six. So I'm already behind big time. But anyway it's my birthday, the last thingI should be doing is worrying. I wanna make it look really Italian.
I got these little planks of wood that I putpaper on, I'm gonna cover 'em in lemon leaves right, and I'm gonna somehow get a coupleof bricks or something and put this up so it's just six, seven inches up. Then all the prosciutto and antipasti is gonnabe on top, it's gonna look great. Anything flat, Andy! Looks more like a warzone. I'm tryna make this place look pretty. Oh, Massimo! Antonio!.
Oh thank you for invite. Thank you for coming! Ciao! Ah Jamie. Oh! Oh we can use this tonight, grazie mille. I'm pretty confident that these hunting boysare gonna love my porchetta, I've seen this dish all over Italy. If they don't like that?.
**** it I'm going home I'm never coming backagain 'cos you know what I'd cut my own **** off and give up cooking. That's a proper good dish. For the pasta course I'm making an amazingseafood sauce. I'm putting some bream and some red mullet,in with some garlic and chilli, and frying it off before adding some lovely fresh tomatosauce. And then at the last minute we're gonna throwin vongole, prawns, mussels, lovely fusilli. I'm putting everything I've got into this,I'm trying to be bold with my flavours. Cinnamon, fennel seeds, chilli, a little somethingI learnt from Giovanni, the fisherman in the.
Sicilian islands. He told me I'd never crack Italian cookinguntil I learned to have a little bit more fun. Oh! Giovanni, yay! Oh, what is it? Molto gentili, grazie. And Beppe and his family of bakers from Puglia. For me?.
Yeah, for you! Oh you're too generous man! I think they're gonna love the antipasti 'cosit's so simple. Those mozzarella and basil-filled lemons cameout to perfection, there's all sorts of different grilled and marinated vegetables, beautiful. Saluti! Mangia everyone, mangia! Molto bene. Superb.
Wow! Buono? Buono. Result! My food's finally put a smile on Giovanni'sface. Look how tender that meat is, tiny bit ofgrilled radicchio. Buonissimo! Now he cooking better than in the market. I don't believe it, I don't believe becausein Puglia Jamie was good cook.
Yeah but before we stay in the market, y'know? Si. There you go, Italians doing what they dobest – arguing about food. There's nothing wrong with being know-it-allsbecause the fact that they all know it all and they all know better… just means they care. And I think the moral of the story is at leastthey do **** care. Care and pride is the thing that I take backfrom Italy really, and as long as you care and as long as you get the family around thetable that's all that matters, no **** dish.
Or Italian or French or whatever, it's justabout cooking. And I think y'know if anything I think Italy'smade me appreciate England a lot actually. After sort of me two months of wandering aboutItaly, y'know I wanna go home now. These are the people that have got me reallyexcited about food again. And thank **** they like it.