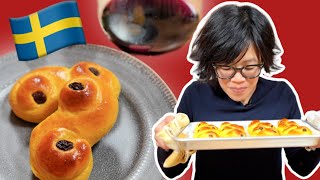 (light delicate music) – Greetings, my beautiful lovelies. It's Emmy. How are you? It's great to see you. And welcome back. Today's video is sponsored by Bright Cellars, who will match you with wines that match your taste preferences.
You take the seven question quiz, enter your preferences. What you like in a wine and Bright Cellars will match wines for your tastes. With all the hubbub that comes with the holidays, there's no need to even leave your home.
The wines will arrive right to your doorstep. So convenient and so simple. After you're done tasting the wines, you rate your wines so that your next box will be even more tailored to your tastes. Another thing I really like is that Bright Cellars includes these wine education cards which give you a brief little synopsis about each wine, telling you where they're from, what temperature they should be served at, and which foods go well with them.
So click the link down below. Bright Cellars is offering 50% off your first box of six bottles of wine and a bonus bottle as well. Big thanks to Bright Cellars for sponsoring this video. And today, I'm going to be making something that was inspired from a book that I'm reading with my children.
And it is this book and it's called "Hattie" and it's written by a Swedish writer named Frida Nilsson. We're not quite finished with it, but there is such a lovely chapter about saffron buns in here. So the chapter's called the last day before Christmas break and Hattie and her family are busy doing Christmas baking which includes a gingerbread house and beautiful buns called saffron buns.
Hattie's grandmother is from Norway which is why had his mother enjoys making Norwegian cakes. Although they are so tall, mama's cakes never collapse and break. Whereas Hattie's buns slump, even though they're only small snails called saffron buns.
So I'm going to be making saffron buns because I also received a little letter all the way from Sweden. ♪ Di di di ♪ Here it is. And this was sent to me by Hanna. Hanna, thank you so much for being a kind follower and following me through all the years.
And she sent me this all the way from Sweden and included a sweet little paper doll her daughter made of me. So stinking cute. I'm holding a fruit here and it looks just like me. Hanna, just coincidentally, she must've been feeling Hattie's vibes, because she sent me recipes on how to make saffron buns, gingerbread and chocolate balls, which Hanna's daughter insists that my children make because it's one of the first recipes that Swedish children learn how to make on their own.
So thank you so much, Hanna, for sending this to me. She also very kindly included some Swedish yeast and some saffron packets to make this recipe as well. So a little bit more background about these Swedish saffron buns.
In Swedish, they're called saffron bullar which means saffron buns or they're also known as lussikatt or lussekatter or lussebullar. And they typically have this beautiful kind of S snail shape or cat shape.
So that's why they're called katt or katter. So these buns are made specifically for St. Lucia Day, which celebrates the martyr Lucia, who was a young girl who went into the catacombs and brought food to persecuted Christians.
And it is said that she wore a crown of candles so she could have her hands free to carry food. So on Saint Lucia Day, many girls will dawn white robes and a red sash and a crown made of lingonberries adorned with candles or lights.
So in this tradition, we're going to be making our own saffron buns, or lussekatter. And we're also going to be making glogg, which is a wonderful mulled spice wine that's often served warm and eaten with these warm saffron buns.
Sounds absolutely lovely. So the Swedish tradition of having coffee or tea with little sweets or buns or cookies is called fika. So we're going to be having our own little wintertime fika today. Alrighty, let's go ahead and make our lussekatter which our little saffron bun in the shape of cats.
Perfect. Let's do this. So since we're using such a large volume of flour, I've got 805 grams of bread flour here, I'm going to be using my stand mixer. This is about six cups of flour. Boom. Two teaspoons of sugar, one teaspoon of salt.
I'm gonna be using one packet of Swedish yeast and this equals 50 grams of fresh yeast. And by the looks of it, it looks a lot like instant yeast. Give that a little spin. (machine buzzes) So in the sauce pan, I have 500 milliliters of whole milk.
That's about two cups and I just warmed it up. And then I dropped in 50 grams of butter. That's about four tablespoons and I add the cold butter to the milk, to cool it down. We want the milk to be around a hundred degrees.
We don't want it to be too hot, otherwise it will kill our yeast. I'm gonna turn to my mixer and slowly add our milk and butter. (machine buzzing) So now that the ingredients are combined, I'm gonna swap out my dough hook for the paddle attachment.
Okay, now we're gonna go ahead and knead this. I would say five to eight minutes. The instructions don't say exactly how long, just until the dough is nice and smooth and elastic and it's not sticking to the sides of the bowl.
I'm actually gonna give it a couple of turns on the counter just to get it into a ball. So there is the beautiful dough. Got a little bit of oil and butter inside my bowl here. And so this space is a little bit cool.
So I'm gonna be using my oven, which has a proofing setting, keeps it about 85 degrees. And we're gonna cover this and proof this for about 40 minutes, an hour, or until this has doubled. So Hanna's instructions say to take a lump of sugar to break up the threads of saffron, but the saffron that she included has already been polarized.
So I'm just gonna add one teaspoon of sugar to my saffron powder and dissolve that into one tablespoon of vodka. So we're gonna let that soak while our dough proofs. So while our bread is doing its thing, why don't we make our glogg? So glogg is basically a warmed mulled wine that is infused with herbs and spices and seasonings like orange peel and cinnamon and ginger.
It sounds absolutely delightful and perfect for winter. So the first thing you're gonna need is a bottle of wine. I'm gonna be using Whistling Arrow, which was included in my box this time. I've never had this wine before.
It's a Malbec and it comes from California. Now, the reason why I chose this wine, is because on the education card, it says that it has flavors of plum, black cherry and raspberry and baking spices, which I think will be a perfect pairing.
And typically, it's served at a warmer temperature, at 60 to 65 degrees. We're gonna serve it even warmer, because what we're making today is a mulled fortified wine. So it has a little extra alcohol in it.
The recipe I'm using today for the glogg comes from swedishfood.com. And the first thing we need to do is to make our spice-infused vodka. This is really simple. Last night, I took five tablespoons of vodka and I added a bunch of spices, which include two cinnamon sticks, 12 cloves a couple slices of orange peel, a slice of fresh ginger, a teaspoon of cardamom pods, and about 10 raisins.
So I've let this soak overnight. You can let this soak even longer, up to seven days, and it smells lovely. Orange, spice. It smells so, so great. Now this is gonna be the key to making our glogg. We're gonna take our bottle of wine and add it to our sauce pan along with our spice vodka infusion.
Look at that. All of that beautiful stuff in there. Now we're gonna add a half cup of caster sugar, which is finer grained than granulated sugar and it will dissolve a little bit more easily into the wine.
There we go. And then one teaspoon of vanilla sugar, which I was unable to find. So I'm just going to add a drop of this vanilla paste. Just a little blub of it like that. So we just want to warm this up so it's nice and toasty and all the sugar has dissolved.
We do not want to bring this to a boil. After it's heated up and cooled down a bit, You can also store this in sterilize bottles and then warm it back up when you're ready to serve it. Alrighty, my lovelies.
It's been about an hour since I placed my dough into the proofer and it is puffed up beautifully. So in a bowl, we're gonna combine 125 grams of butter. And this is at room temperature. Next, 150 milliliters of sugar.
And I'm gonna add one room temperature egg to this and we're gonna cream this up. Here we go. So saffron is harvested from fall blooming crocuses and I had some crocuses, but then when I had noticed that they had bloomed, they were already too far gone.
So I wasn't able to have a harvest. I only had three flowers anyways, but next year I'm anticipating my fall blooming crocuses so I can make some dish with my own homemade saffron. Okay. So we're gonna add our saffron vodka to this.
That is so beautiful. It's like Cheeto-colored orange. Gorgeous, absolutely gorgeous. So this is what's gonna make our lussekatter beautiful and yellow. So the recipe warns that this is initially gonna look awful, but just be patient and everything will combine into a silky smooth dough.
Dough goes into here. Look how beautiful this is. (Emmy laughs) I love doing that. Get a great little belly button in there. Next, we're gonna add all of that beautiful yellow butter, egg, and sugar. And just knead this until everything is combined.
It took a little while to incorporate all that butter into the dough, but it did happen. And look at the dough. It's such a beautiful color. Okay. Now we're going to shape our lussekatter. There's lots of butter.
There's an egg in there. So this dough is sticky, but I'm going to resist adding too much flour because then it'll make our breads tough. So I'm gonna give it a couple more turns, and it is such a beautiful color.
Now this recipe makes 45 to 30 buns, depending on how big you make them. So I'm gonna go for the slightly bigger size and I'm going to make 30 of them. Cut it in half and set half of that aside. Keep it covered, so it doesn't dry out.
I'm gonna make 32 because that'll be easier to divide. So I'm going to make 16. Cut that in half. Four. And each one of those in half as well. So I'm gonna take each ball and tuck them under. These are going to be little tiny buns.
So we're gonna take one of these pieces of dough and roll it into a cylinder. A long snake, actually. I'm gonna curl one end like a snail, nice and tight halfway. And then I'm gonna curl the other one in the other direction the other way, until they meet.
Look how cute it is! Love it, love it, love it. I'm gonna let these proof again, for maybe 40 minutes or so, or until they've nicely puffed. And then I'm gonna wash them with a bit of egg wash. And then in each little spiral, I'm gonna add one raisin and then bake them at 225 degrees Centigrade for 10 minutes.
Alrighty. See ya in a little bit. Alrighty, my lovelies, I just took out my beautiful saffron buns out of the oven. And aren't they adorable? I wish you could smell them. I can't wait. To go along with my lussekatter.
I'm gonna have some glogg as well. So what you're supposed to do is take a few blanched almonds and place them into your cup, along with a couple of raisins. Boop! I'm gonna leave all the spices in the bottom and spoon some of that in here.
I really should have a ladle, but (chuckles) I guess a spoon we'll have to do. Happy St. Lucia Day. Alrighty, cheers. Ooh. This is so nice. This is just infused with the flavors that I associate with Christmas.
All of those spice flavors, a little bit of that orange in there as well. It's absolutely love, And that sugar we added in there goes really well. I don't usually like my alcohol sweetened at all but this goes really, really well.
So smooth and comforting and warm. Lovely. Alrighty, let's pair that with our beautiful saffron buns. They turned out beautifully. Don't they look gorgeous? Okay, let's tear one of these open. Here we go.
Oh, look at that color. Itadakimasu! Mm. This reminds me a lot of milk bread. If you haven't seen the Japanese Hokkaido bread recipe that I tried out, I'll put a link down below to that recipe, but very similar, very pull apart, tender crumb that's enriched with butter and milk.
This is even more buttery, more similar to a brioche in that sense, but lovely. I don't taste any flavor from the saffron specifically. It just tastes like buttery, slightly sweet richness. And with the raisin, lovely.
Mm, mm, mm. And the warm bread right out of the oven goes so well with the warm spice-infused wine. Really beautiful, beautiful pairing. So big thanks once again to lovely Hanna for sending me this recipe and including the yeast and the saffron so I could make it.
And big thanks to Bright Cellars for sponsoring this video. If you'd like to get 50% off your first box of six bottles of wine and receive a free bottle of wine click the link down below, take the test and get started.
Alrighty, my beautiful lovelies. Thanks so much for tuning in. I hope you enjoyed that one. I hope you learned something. Please share this video with your friends. Follow me on social media, like this video, subscribe and I shall see you in the next one.
Toodaloo, take care. Bye! (light music) I just want to curl up inside one of these buns and just take a little nap.