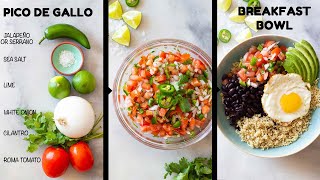 let's make a super delicious and nourishing quinoa breakfast bowl shall we? let's start by cooking the quinoa my favorite way to cook it is in the instant pot but I have a full tutorial on all the different quinoa cooking methods and I will link it to cook the quinoa in the instant pot you have to.
Add one cup of quinoa and one cup of water as well as a little bit of sea salt then stir it to make sure it's all submerged in water and no seeds stuck to the sides above the water I'm taking advantage of the heat and the cooking time to heat up my beans for the quinoa breakfast bowl but you can also reheat in a pan or.
Microwave if you prefer add a trivet and an ovenproof container to the pot and then empty a can of black beans or home cooked black beans to it and season it with a little sea salt and lastly you can add a fridge cold egg to the pot to hard-boil if you like your breakfast bowl with hard-boiled egg instead of fried egg.
Put on the lid turn the valve to the sealing position and then set the pressure cooker to 1 minute on high pressure we will let pressure release naturally after this time so this gives us a good 20 minutes to prep a delicious pico de gallo for that you need a large cutting board and a bowl start by cutting a medium white onion in half and.
Then finely chop just one half then put that chopped onion into a bowl return to the chopping board and cut two to three large roma tomatoes into about a half an inch dice use a serrated knife to cut tomatoes to get a better grip on the slippery skin then add the tomato to the onions return to the chopping board again and finely chop some chili you can.
Use a jalapeno for a little spice or serrano for more spice or green bell pepper if you're serving the pico de gallo to kids then add to the onions and tomato lastly chop a handful of cilantro stems and all no need to destalk and add the chopped herb to your other ingredients now it's time to.
Season the pico de gallo add sea salt and plenty of lime juice I'm using one and a half li,es here but the amount will depend on the juiciness of your limes of course give it all a quick stir and your delicious fresh pico de gallo is ready to serve I love serving my quinoa breakfast bowl with a little avocado as healthy fat so if you are an avocado.
Lover too get back to the chopping board half an avocado peel it and then slice it into about 1/4 inch slices I also prefer serving my breakfast bowl with a crispy edge fried egg instead of hard-boiled and for that I preheat a large pan over medium heat and once hot add a generous amount of avocado oil when the oil is hot and shimmering crack the.
Egg into the hot oil and fry until the edges crisp up season with a little sea salt flip the egg and cook it for maybe 3 to 5 seconds on the other side and then remove from the pan by now the instant pot safety pin should have dropped all on its own so you can add about a cup of cooked quinoa to a bowl 1/2 a cup of your hot.
Black beans a couple of spoons of pico de gallo a quarter of your sliced avocado and then either your hard-boiled egg or your fried egg you can now eat it just like that or what I like to do for extra spiciness is add a little bit of salsa and dive in I hope you enjoyed this recipe if you're.
Gonna give it a try please don't forget to snap a picture and show me I love seeing when you make any of my recipes and before you leave subscribe so you don't miss any more if you've enjoyed this video I'm sure you're going to love this one