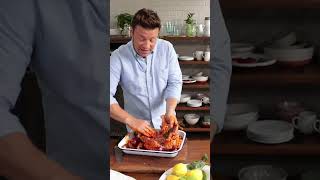 We're going to make the most delicious harissa chicken tray bake. Look at these peppers. Get rid of the seeds andthen just tear it up to tough sized chunks. I've got 2 onions here. Cut them into quarters, unpick them like little petals, season it – nice sea salt,pepper as well. We're going to go in.
With some extra virginolive oil and a little swig of vinegar. And then I'm going to usesome harissa, 4 teaspoons. Give this a nice little mix. Look at the colours. For the chicken. Put it in the tray. And literally I'mrubbing the harissa and the oil inside and outside.
The chicken, flavour'sgoing to be so good. A little bit of sea salt on top. And when that cooks,it's going to be amazing. Look at that. The smell!. That harissa has mixed with all the stuff that would normally makea beautiful gravy. So you get this sauce and you just want toscrape that down.
And then put that back overthe chicken. Look at that. Look how juicy it is. So good.