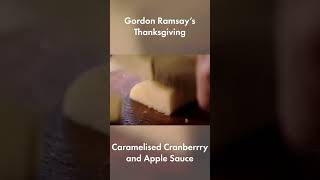 First things first we're gonna make a really nice caramel add 150 grams of caster sugar to a pan followed by a couple of star anise next lightly crushed four cardamom pods this has a lovely warm Spicy Sweet flavor then wait for the sugar to melt and form a caramel smell of that caramel is amazing now cranberries in.
Cranberries are very tart and acidic but balanced with the sweetness of the caramel and apples they give the sauce a lovely dry sharp note next core peel and thinly slice two apples Now The Cranberries are starting to break down Apple in the smell is fantastic it's not a sort of sweet sour spicy delays the pan with.
A touch of Port deglazing dissolves all the lovely sticky caramelized bits of food that are stuck to the pan and incorporates them into the sauce next add the zest of an orange and for another layer of fragrant sweetness squeezing the juice then cook on a low heat for five to ten minutes to thicken if you really want to get ahead this.
Sauce can be made three or four days in advance